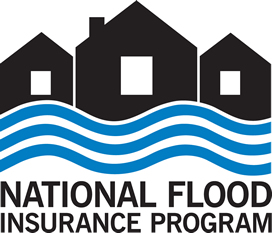 OVERVIEW: The National Flood Insurance Program (NFIP) enables homeowners, business-owners, renters, and governments to purchase flood insurance coverage where premium rates are generally lower than standard actuarial rates. Generally, physical damage to buildings or personal property "directly" caused by a flood is covered by flood insurance. For example, damages caused by a sewer backup are covered if the backup is a direct result of flooding. However, if the backup is caused by some other problem, the damages are not covered. Most NFIP Policies include Increased Cost of Compliance (ICC) coverage. This coverage can provide up to $30,000 of the cost to elevate, demolish, or relocate homes. If your community declares a home "substantially damaged" or "repetitively damaged" by a flood, FEMA will require the owner to bring the home up to current community standards.
TIMETABLE: Property owners (including municipalities) can apply for flood insurance at any time as long as their community participates in the NFIP.
APPLICATION PROCESS: Insurance is purchased through a local insurance agent. FEMA maintains a list of accredited agents on their FloodSmart site.
FOR MORE INFORMATION: See the FloodSmart site.
TAGS: insurance, individuals